2022 Question and Answer With Station 7 Terror Trail
Home » Blog » Maryland Haunts: An In Depth Look
July 26, 2022 By Haunt News & Press Releases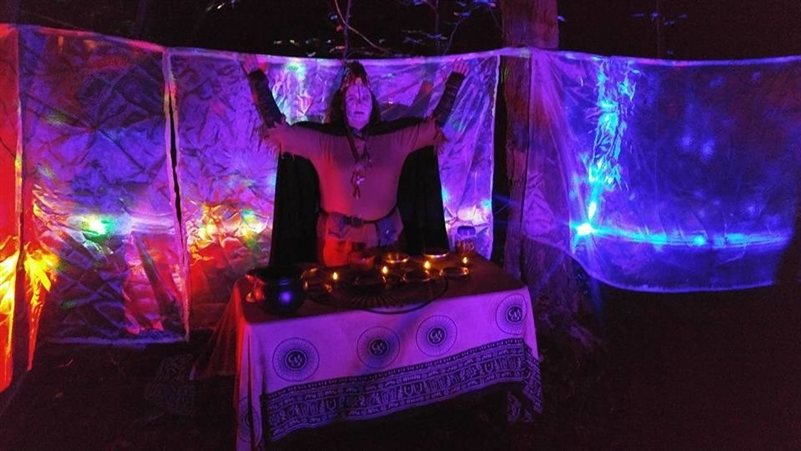 MarylandHauntedHouses.com recently sat down with Fawn Pettigrew of Station 7 Terror Trail, to discuss what's new at Station 7 Terror Trail for the 2022 Halloween Season!
What's new at Station 7 Terror Trail for 2022? Do you have any new rides, attractions, or special features that Haunt Seekers should know about?
New for 2022:
We have a new trail layout with new surprises planned for you! We have a brand new custom ticket booth in a new location. The booth is well lighted and easy to see. The new location is intended to improve the time it takes to purchase or pick up your Online purchases Entry Passes.

We have a photo booth area set up near the pavilion next to the fire house. You can choose from the 2 backdrops to take your pictures and selfies.

No onsite parking: Parking off site with free shuttlebus service to and from Station 7 Terror Trail.
Parking at the following locations:
1) Mid Atlantic Community Church (MACC) (only 100 spaces)- 2485 Davidsonville Road, Gambrills, MD
2) Crofton Middle School-2301 Davidsonville Road, Gambrills, MD
What are you most excited about for the 2022 Halloween Season?
The new trail layout is really good, and the new scenes are awesome. This year we are running on commercial power. This means no noisy generators! this has allowed us to really use music to heighten your scary experience!
What differentiates Station 7 Terror Trail from other local haunts in Maryland?
First, we offer something for every member of the family including the Boo Loop which has new upgrades to our static displays.
Secondly, the dedication of this all volunteer crew is beyond expectation. school age volunteers receive service hours for the days they work the haunted trail.
Finally, all the proceed are given to the Arundel Volunteer Fire Department allowing for the delivery of critical life and property saving services.
How long has Station 7 Terror Trail been in business? Can you tell us a bit more about Station 7 Terror Trail's history?
This fundraising event began in 2016 and has grown each year. We were voted best Haunted attraction in 2018 and 2019.
What's your favorite experience since opening Station 7 Terror Trail?
Watching everyone have so much fun on the trail!
How long is a typical haunt experience at Station 7 Terror Trail from start to finish?
The 3/4 mile trail generally takes about 15 minutes to complete.
On a scale from 1 to 10, how scary would you say Station 7 Terror Trail is? Why?
I would rate us at an 8. We don't want you to be scared enough to pass out but, if you are so scared that tears run down your leg we won't mind!
Does Station 7 Terror Trail's property have any real haunted history? Do you have a spooky encounter you'd like to share?
no
What inspired you to open up a haunted attraction? What's your favorite part of the business?
I have always loved Halloween. when the opportunity came my way I jumped at the chance to create a haunted attraction and I wanted it to be a charity helping the community. working with the creative people that make up the core of this attraction's family team!
How has new technology (i.e. animatronics, special props, etc) helped you to enhance Station 7 Terror Trail?
This year we upgrade the power infrastructure