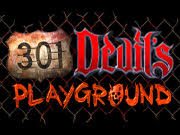 13335 Alexander Road
Galena, MD
Details
Average Review

Scare Factor

Very Scary

Appropriate For

-

Organization Type

-

Listing Categories

More Info

Snacks & Refreshments, Outdoor Event(s), Touching Allowed, Free Parking
Two terrifying haunted attractions in one horrifying place: 301 Devil's Playground bring's you the "Barn of Torture" and the "House of Hell".
The Barn of Torture:
Local twin boys were hired by the judge to manage the farm. These boys had been in a fire at age 7 and were burned badly on their faces.
The locals would make fun of them so bad, that the mother kept them locked up in their basement. But the judge looked passed their disfigured faces and let them help on the farm. It was said that the judge would use the boys to help him find rich victims and bring them back to the farm so he could skin them alive.
Sometimes their skin wasn't what he was looking for so those victims were left for the boys to torture by cutting them up or burning them…Some of the locals still say today that you can hear screams and weird noises coming from the farm.
House of Hell:
There was a well known judge from up state that got caught taking payoffs from criminals. One Criminal he let go was a mass murderer who preyed on the rich and skinned all of his victims alive.
One October night the killer captured the judges wife Mary. Skinned her alive and bought her back to her home, leaving her on the step for the judge to discover in the morning. Soon after his wife's death the judge went crazy. He sold his home and purchased an old farm in Galena Maryland, where he would live for the rest of his life along with his loving wife Mary's body. Some of the locals say he buried her on the farm and some say he keeps her in the house. It's still a mystery to this day. In October 1972 the judge was accused of kidnapping a Delaware Women, the story goes that he is looking for human skin to put on his loving wife Mary's body…so come and visit if you dare, you just might be his next victim!!
Email Haunt Owner
All photos and videos within this listing are the property of 301 Devil's Playground
Worth the drive and the money

As someone who used to help build custom scenes for haunted houses, I am very critical of most Haunted Houses. This one is VERY well done. The transitions from inside to outdoors were almost unnoticeable in some places. The various ways they scare people is great! Their props are fantastic. I want to take their animatronics home with me. The mood they set in each scene was fantastic. It is a great haunt and well worth the price of admission. The House of Hell and Barn of Torture were exceptionally well done. Excellent use of lighting, custom props, live actors, animatronics, and mood music. The entire place is well designed and has exquisite and amazing details in every room/scene. The use of varied distractions and scares made it a joy to go through. I highly recommend to anyone who wants to be genuinely surprised and scared. My only complaints are easily fixable ones. Some of the rooms with fog are a bit heavy on the fog and therefore you dont get to enjoy a lot of the intricate details of the background and props. Somewhat of a let down as I would like to see more. The only other complaint was that some of the doorway transitions have a step up/down that is easy to miss as you are busy looking around at everything else. But I hate to end on a sour note, so I will save the best for last. Zombie Paintball. You heard me. You get to ride around in a army truck with paintball guns mounted on it and shoot zombies running around the 'graveyard'. Live out your fantasies of offing some foul undead creatures of the night. Its a ton of fun. I wish it were longer, but alas I guess they just need a bigger supply of bodies. Hmmm. NOW I know why you have to go through the House and Barn first....

| | |
| --- | --- |
| Scare Factor: | |
| Fun Factor: | |
| Haunt Value: | |

Posted October 2018

Email Verified

Amazing attention to detail and truly terrifying!

I LOVED this attraction. It was my first visit, and my husband and friend's 3rd time at this attraction. The actors do a great job bringing the park to life. There are so many blind corners, dark rooms, and eerie sounds/music that you're walking through the house and barn already spooked. The attention to detail in every single room shows you how hard the owners have worked to make this attraction come to life. The mannequins and real actors are hard to tell apart - which helps when they jump up and scare the shit out of you. There's always a guy with a chainsaw and I jumped on top of my husband I was so scared. I came to have fun and be scared and this place delivered. It's not as expensive as other attractions and it absolutely delivers.

| | |
| --- | --- |
| Scare Factor: | |
| Fun Factor: | |
| Haunt Value: | |

Posted October 2018

Some spine-tingling moments

I have been for many haunted houses. But the 301 Devil's Play Ground beats all of them. In the terms of actors, sets and props this haunted house stands out. The Zombie Paintball Ride was fun as well as spooky, while the House of Hell gave us some spine-tingling moments. The character Penny Wise and The Devil were very scary. Definitely the actors deserve 5 stars. Kids will find Zombie Paintball Ride interesting. Really a family friendly haunted house. Don't miss it.

| | |
| --- | --- |
| Scare Factor: | |
| Fun Factor: | |
| Haunt Value: | |

Posted November 2017

Email Verified

Zombie Tunnel was pretty scary

Better than before!!! This place was really awesome. My two cousins, wife and daughter went to the 301 Devil's Playground. Each attraction has its own theme and storyline. My daughter loved the Zombie Paint Ball Ride. Sitting inside the army truck and shooting the Zombies with paint ball guns was lots of fun. The Zombie Tunnel was pretty scary. We feel like the room is moving. The characters, sets as well as the props there were unique and different from our past visits. 100% recommend.

| | |
| --- | --- |
| Scare Factor: | |
| Fun Factor: | |
| Haunt Value: | |

Posted November 2017

Email Verified

Perfect mix of horror and fun

I drove nearly 60 miles to go to 301 Devil's Playground haunt and I must admit that I am satisfied. I can go another hundred miles for such an amazing experience. This haunted house has the perfect mix of live actors who are committed, good props. They got everything right. Be it the lights or fog effect or sounding, they got it right. They had few special attractions which other haunted houses doesn't had. Price too is not a big issue, it is manageable. This time I missed paintball attraction and next time I will definitely visit this as well and complete all attractions.

| | |
| --- | --- |
| Scare Factor: | |
| Fun Factor: | |
| Haunt Value: | |

Posted November 2017

Email Verified

Spooky and mysterious

All the people working the attraction were excellent and played the part so very well. I was surprised at how spooky and mysterious it really was. This is not your typical haunted house! I had good scares as an adult, but not over the top. It was great fun and I'd highly recommend this to anyone who goes around Halloween!! Well worth the money and drive.

| | |
| --- | --- |
| Scare Factor: | |
| Fun Factor: | |
| Haunt Value: | |

Posted November 2017

Email Verified

Staff

At the ticket window, I saw the most gorgeous woman I have ever seen. I might buy another ticket just to see her again

| | |
| --- | --- |
| Scare Factor: | |
| Fun Factor: | |
| Haunt Value: | |

Posted October 2017

Email Verified

Barn of Torture was scary and intense

Oh My God!!! My kids were saying again and again. It was our terrific experience at 301 Devil's Playground. The experiences in the Barn of Torture were really scary and intense. The wicked characters in the barn would scare the crap out of you. The House of Hell was equally terrifying. For me, it was the scariest one. I will come again for sure.

| | |
| --- | --- |
| Scare Factor: | |
| Fun Factor: | |
| Haunt Value: | |

Posted October 2017

Worth every penny

301 Devils Playground is such a cool place to go. It is such a great haunted house that I believe every penny was worth spending. Especially Zombie Paintball was amazing. There are lot of zombies to shoot and it was fun. House of Hell is really scary and it feared for my life. Can't wait to see more attractions to be added next year. Other than this there were DJ, food and merchandise which most of the haunted house are lacking. I had a gala time with my friends.

| | |
| --- | --- |
| Scare Factor: | |
| Fun Factor: | |
| Haunt Value: | |

Posted October 2017

Big and scary

Best haunting experience I've had. It will really make your hair stand on and makes you feel is if you are really in some real hell. As you go in, they give you directions. Follow them or they will let you know your trip will be cut short. Hand on the shoulder in front of you. I tried to hold onto my husband's belt loop and they stopped us and said to fix it. We took a long time in there because it is so dark. The houses were big and scary, zombie paintball was fun.

| | |
| --- | --- |
| Scare Factor: | |
| Fun Factor: | |
| Haunt Value: | |

Posted October 2017

Scared to death

If you are looking for the scariest haunted attractions in Maryland, 301 Devil's Playground has 3 terrifying haunted attractions that will bring you fears to life. I read a lot of horror things in their website and initially I thought that they are boasting a lot. Besides I cannot be scared so easily. With so much of confidence I went there and my god I am really scared to death and there is no boasting about this devils playground. I am impressed that I got defeated with scare. I highly recommend this to people who don't get scared easily.

| | |
| --- | --- |
| Scare Factor: | |
| Fun Factor: | |
| Haunt Value: | |

Posted October 2017

High scares

Wow! best one I went to, although only got half way through it my kids got scared I recommend 13 and up even they were scared but they were super nice and stopped everyone and said close your eyes everyone we have a scared little one who we are pulling out and they turned on the light and in 3 mins we were out of the scary! I was kind of relieved though myself lol!! Literally the best one I've ever been to! Amazing actors and props. Great job!

| | |
| --- | --- |
| Scare Factor: | |
| Fun Factor: | |
| Haunt Value: | |

Posted October 2017

Monsters scared us big-time

One of the best haunted house experiences I had this year. The Zombie Paint Ball Ride was my daughter's favorite. The Zombie tunnel had few good scares. She screamed in the Hell tunnel. Barn had some great animatronics. The monsters scared us big-time. Prices were reasonable. Really enjoyed the visit. Can't wait till next year.

| | |
| --- | --- |
| Scare Factor: | |
| Fun Factor: | |
| Haunt Value: | |

Posted October 2017

Email Verified

Okay

It would of been great but in the haunted house we got Lost on path and the security on the four wheeler stared at us rather then being gentlemen and showing us the way. Then we go to the haunted house and we got stared at the whole time like we didn't something wrong when we were just trying to enjoy our selfs. Then half way thru we notice security was folllowing us which kinda ruined it, and they lie and said they can only touch shoulder up and I had someone untie my shoe lace and grab it. I think that was rude. But on side note I enjoy penny wise and the Satan. And I think at the end of the zombie trail you should get dropped off in the corn maze and have to make your way back so the ride has a scare factor,

| | |
| --- | --- |
| Scare Factor: | |
| Fun Factor: | |
| Haunt Value: | |

Posted October 2017

All Around Superb!!

I drove 117 miles to go to this haunt, and i was not dissapointed. Let me state my only complaint right off the bat. A Tad Too short as most haunts usually are. Now this attraction had the perfect blend of live actors, props and animatronics. I mean they got it right. The actors were all very good. I got there very early and had virtually zero wait. i was literally there when it opened so i could also make another haunt (Frightland) that night which is pretty much trash. They state 8 haunts and some are literally three min each. I kid you not. But let me make this about Devils Playground and not trash other places hah. There are two attractions and both are pretty much equal as far as how good they are. I was a little scared at first because as soon as we went into the house of hell we went right back outside and i was thinking "Great, another facade that looks cool and then isn't actually inside of a building. But it basically weaved in and out of the building through the whole thing which ended up being really cool. They had the lights and fog and sound all working perfectly together for a great atmosphere. Zero wasted space like you see in some haunts where you walk forever and have nothing. I mean every corner held a new room or scare. I am not easy to please when it comes to haunts as you know if you read my other reviews. Maybe only three in the area have met my expectations, and i will gladly add this to the list. I will def make the drive again and i don't want to ruin anything but they had a few things i had never seen in other haunts which made it even better. Price was not too bad.($25) Also let me say i did not do the Paintball because i was trying to make another attraction that night. Next time i go i will do the paintball as well. Im not generally a fan of paintball haunts and just think of them as a fast way to make cash and i am very disappointed in every one i have been to. But what the heck next time I will do it since the rest of the place was so cool. Excellent All Around

| | |
| --- | --- |
| Scare Factor: | |
| Fun Factor: | |
| Haunt Value: | |

Posted October 2017

Email Verified

fantastically freaky

Definitely not for the faint of heart. Actors really get into there parts. Scare factor 110%. Definitely worth the drive. Can't wait for next year!

| | |
| --- | --- |
| Scare Factor: | |
| Fun Factor: | |
| Haunt Value: | |

Posted November 2016

1 out of 1 found this review helpful

Best scare in forever!

It was a hike to get there, but well worth the journey. The Barn was terrifying and had us screaming our heads off. The best part was the lotion! And the cowman got me! The zombie paint ball ride was unlike anything I had ever seen. My family and I were kept on our toes all night by all the wonderful actors! Thanks again for the great night. The actors walking around outside were just as important to the experience as the ones on the inside!

| | |
| --- | --- |
| Scare Factor: | |
| Fun Factor: | |
| Haunt Value: | |

Posted October 2016

2 out of 2 found this review helpful

Awesome time!

We loved the zombie paintball and can't wait to go back!

| | |
| --- | --- |
| Scare Factor: | |
| Fun Factor: | |
| Haunt Value: | |

Posted October 2016

2 out of 2 found this review helpful

Terrifying awesomeness

Not for the faint of heart. Scare factor 10+++++++! We will definitely be going again.

| | |
| --- | --- |
| Scare Factor: | |
| Fun Factor: | |
| Haunt Value: | |

Posted September 2016

1 out of 2 found this review helpful

scary stuff

Fantastic haunted attraction. Definitely worth the drive. Awesome effects.

| | |
| --- | --- |
| Scare Factor: | |
| Fun Factor: | |
| Haunt Value: | |

Posted May 2016

2 out of 2 found this review helpful

View all 301 Devil's Playground Reviews
All information on this page was submitted to Maryland Haunted Houses and was believed to be accurate at the time it was posted. Please report any inaccuracies
here
.